Resource Management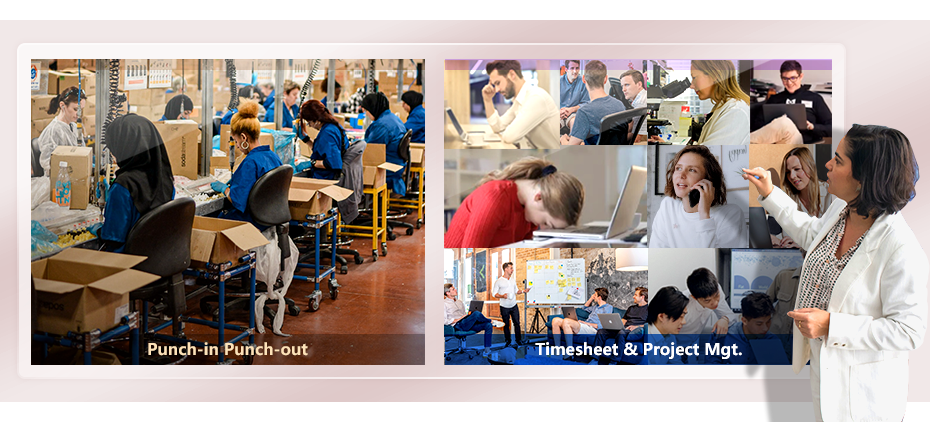 If your operations are pure assembly line production and you are already using punch-in punch-out, you would be fine. If your operations need to utilize many skilled workers or professionals, you should know that an annual performance appraisal is only an after-the-fact tool, you also need a daily management tool similar to a "punch-in punch-out" tool commonly found in assembly-line sites. What you need shouldn't be a "punch-in punch-out" tool since you aren't running assembly line operations.
Right Tools Right Operations
In a factory environment, workers who don't need special education could work in a production line assembling products. Working as a line operator, they need to keep records of the tasks they perform. They are responsible for creating products that are in alignment with expected quality standards and following production schedules. In such a setup, managing the operations of the production line would automatically cover managing its operators.
As factories have made it possible to increase production by using machines and unskilled workers, they have also created a significant demand for the engineers, machinists, and skilled mechanics needed to design, build, and repair the machines, which has resulted in the need for a different way of managing skilled workers. At the same time, other industries such as Architecture, Engineering, and Construction Operations (AEC), Product To Order Manufacturing (ETO), and various other types of Professional Services Organizations (PSO) need large numbers of professionals and need a better way of managing their skilled human resources.
Also, a lot of businesses today provide their products and services to their customers directly through projects and/or organize their work by projects (e.g., research, product development and IT system implementation). Therefore, resource management must be able to be linked to project management, operation management (including non-project tasks) and financial management. Resource management has become a complex area of management that needs tools and data to manage. Unfortunately, many managers have the view that managing skilled labor is more or less the same as managing unskilled labor in a production line. But competition will drive operational efficiency and operational efficiency will drive the change of these managers' mentality.
Resource Management for Project Activities
Resource management in projects is all about transparency so you can see, monitor and attain what is required to deliver projects. It also enables you to minimize both idle time and overutilization of resources. With full visibility into both work and resources, you can more effectively schedule, plan, and manage your resources, aligning them with the right projects at the right time.
It is easy to see the importance of resource management by understanding the disadvantage of not having it. Without the right data, resource managers have little control over their projects and no way of understanding:
Planning and scheduling –

Understanding what resources are available and when

Available and required skills –

Assessing the skills of each person and whether additional skills (or people) need to be added

Resource utilization –

Knowing where people are already committed and if those allocations are appropriate

Resource capacity –

Understanding true capacity to do work, recognizing that not all time can be utilized

Resource prioritization and allocation –

Identifying those prioritized initiatives that require the most attention and possibly specialized skills
Besides supporting the above, 8Manage Resource Management ensures both project managers and resource managers have on-demand, real-time visibility into human resources and non-human resources so they can have greater abilities to deal with resource conflicts and greater control over delivery.
Resource Management for Service Desk Activities
A service desk provides support for the products sold to the customers. A service ticket will be generated when a customer's call is logged by the service desk. When one or more service professionals take up the service ticket, resources are allocated to the service associated with the ticket. When the service professionals are taking action to resolve the customer's issues, resources are being utilized by the service associated with the ticket. 8Manage provides the tool for service ticket generation and also allows the allocation and utilization of resources for service tickets that are being recorded and tracked in the same manner as for project activities.
Resource Management for Other Activities
Not all resources at all times are working on projects or service tickets. Many operational activities aren't associated with projects or service tickets. Some operational activities can be even unplanned and pop-up in a needed manner. 8Manage provides tools for non-project and non-service ticket assignments and actions and allows the allocation and utilization of resources for assignments and actions that are being recorded and tracked in the same manner as for project activities or service tickets.
Real-time Complete View of All Your Resources
It doesn't matter whether your resources are working on different projects, different service tickets, different planned operation assignments and ad-hoc assignments, you always have a complete view of the allocation and utilization of each of your resources for different work categories each day, each week or each month (depending on the granularity that you want to see). It is very important to point out that resource management with the generic scenarios mentioned above is very complicated and often changes dynamically. It is close to impossible to manage adequately without a powerful real-time resource management tool.