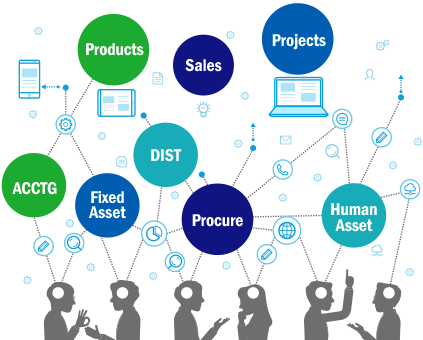 What is 8Manage ?
8Manage extends ERP type of automation to business straight-thru driven by data science intelligence. Specifically, 8Manage extends:
Internal team to

multiparty (e.g., clients, suppliers)

team straight-thru processing
Assembly line to any form of white collar

project-based

controlled execution
Mgt by documents to by

digital rules

,

corporate memory

and

audit trails

Human invocation of isolated ERP functions to smart contract driven automatic execution of

integrated

CRM, SPM, eCommerce/O2O, PPM, HCM, OA, Finance and BI functions
Manual reports to

automatic and real-time

forecast, decision support or business execution
In the past few decades, business managers' intelligence was much weakened by the delayed, fragmented and massaged information that made available to them because of the limitations on computing power and old software design (data connectivity is limited by module boundary). 8Manage is aimed at using the modern technology and design to provide automatic and real-time business straight-thru based on data science intelligence and digital rule control.
KEY BENEFIT : KEY BENEFIT ↓
MODULE LIST : MODULE LIST ↓
SEE MORE >