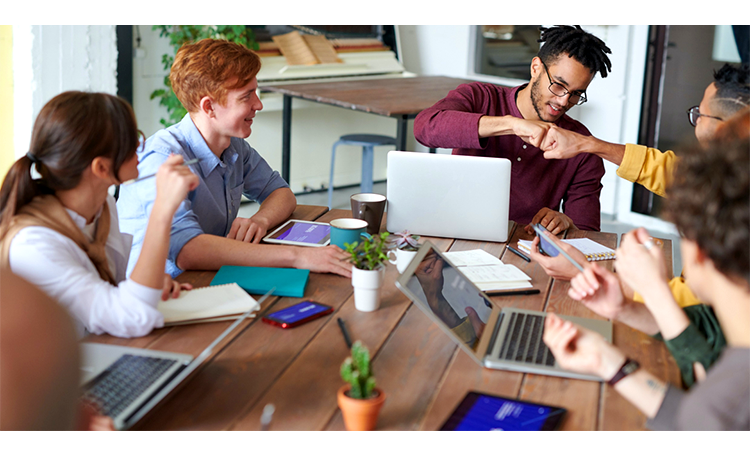 Purchasing focuses on the cost of the order, while procurement focuses on value creation and the total cost of ownership. While purchasing aims to minimize the cost of an order, procurement aims at other objectives like risk mitigation, contract compliance, cost savings, ongoing supplier relationships, etc.
The purchasing process is important because it gives your business a structured way to address its needs. It also allows for more informed financial planning. 8Manage SRM's purchasing process can help your business prevent fraud or irregular spending since it requires documenting all business transactions and automatically creates a non-erasable audit trail.
Identify the need --
The purchasing process begins when the business recognizes that it has a need for a product, tool or service that will enhance its operations. Team members can help identify needs as they complete their daily work by notifying their supervisors of any challenges they encounter. Once the organization identifies a need, it can begin the purchasing process.
Specify the requirement --
During this stage, leaders investigate the need further and come up with a plan for exactly what they require. For example, a frequent shortage of printer paper becomes the need for weekly deliveries of 500 sheets of inkjet printer paper to ensure a continuous supply.
The person who identified the need often works with other team members and management to come up with the right solution to the problem, especially when concerning a larger purchase. For example, the employee who identified the need for more printer paper may have the power to specify the requirement on their own, while the need for new computer systems throughout the entire office likely requires input from others.
Find and choose a supplier --
Find potential suppliers who can provide the specific product or service you want to purchase. You can conduct your own research online or contact those in your professional network to ask for recommendations. If shipping costs are a factor in your purchase, look for businesses in your local area.
During this stage, it is a good idea to consider several suppliers and compare them against one another. When necessary, contact the supplier and request a quote or proposal from them. As you are considering suppliers, consider factors such as cost, reliability and delivery time.
Negotiate costs --
In many situations, it is possible to negotiate costs with a supplier, especially when placing high-priced orders or orders you expect to recur regularly. Contact the supplier you are considering and ask if they are open to negotiating the price. Suppliers may negotiate if it means they can secure a large or long-term contract for their business.
Get order approval --
Before your business can initiate the transaction, you may need to get approval for the order. This could include working with upper management and the accounting department to ensure there are enough available funds within the budget for the purchase. In some scenarios, the business may also need to establish a line of credit with the supplier. If you haven't already, explain to management why this purchase is necessary and how you achieved a reasonable price from the supplier.
Place the order --
Once both sides agree to the transaction, you can formally place the order. Have both sides agree to the specific details, such as price, delivery times, fees and installations. Get everything in writing and have representatives from both organizations sign it. Then keep a copy of this agreement in your files for future reference.
Receive and approve the order --
When the order arrives, check for any issues with the product or anything the supplier failed to deliver. Timeliness is key because if there are any problems, the supplier should address them before you release the rest of the payment.
Review supplier performance --
Whether you work with a supplier on a one-time transaction or set up recurring transactions, make it a regular practice to review your suppliers' deliveries for quality and timeliness. A record of these reviews can help you identify and track any issues that might arise later in your contract. Continue relationships with suppliers who continue to meet your business needs.
---
Purchasing Methods
Open Market Purchasing
Your organization can use the open market purchasing method to acquire products that are not purchased frequently. Using this method, you must use either industrial standards or specifications to ensure that when you request-for-quote, you are doing an apple-to-apple comparison. The advantage of this method is that only products of desired quality will be purchased at the lowest possible rate.
Purchasing by Contract
The items that require frequent purchase call for contract purchases. The tenders are awarded for direct materials. The annual requirement is marked out and the tenders are invited. The tenders should be evaluated for their total value depending on the estimated production consumption of the year. The contract is signed with the supplier who has to deposit security money to ensure that he will supply these items regularly. They are bound to supply the specified quality only. If the supplier fails to supply the indented items we have a clause in the contract according to which we can buy the indented items at the market rate prevalent and debit the amount to the supplier's account, this is known as risk purchase.
Centralized Purchasing
It is based on the principle that the purchasing activity is done by one department. In operations that have centralized purchasing, the head of centralized purchasing usually reports to the top management who has overall responsibility for making a profit. In this kind of purchasing the needed purchases from different departments are combined together under a single department and purchases are done on a large scale.
The advantages of this method are to have better control and coordination because all the purchasers are working under a single head or department. Better discount is gained due to combined purchasing power and few people are involved in purchasing because of combined work. Economic and profit potential of purchasing policy making it a profit rather than a cost center.
Standing Order Purchase
In this method, the supplier sends merchandise at a fixed pre-determined interval of time. The purchase may involve a fixed quantity every time or may involve replenishing stock from time to time. Frequently used products such as bottled water are normally purchased by this method, which is often used for specific items only. The delivery man will replenish the stock and this saves a considerable amount of time for the receiving person. Formal agreements are made for this type of delivery in advance and reviewed from time to time. One of the disadvantages of this system is that there is dependence on one vendor and delays may be caused by unexpected problems. However, it works out well for those items that are purchased daily or weekly or several times in a week or month.
Periodical Purchasing / Fortnightly Quotation List / Purchasing Bi-weekly
This method is used to purchase products such as grocery items that can rot within one or two weeks where delivery once a week or a fortnight is adequate. Someone would complete the stock in hand and fill in the wanted quantity of each item based on a normal order quantity and volume of business expected on the master list. Meanwhile, the purchase officer would send out a copy of the list of each supplier in which the supplier is required to quote the rates on receipt of quotation. These would be entered into a master quotation list and the decision is then made about where the order for each item is to be placed. This would be based on the requirement in the next week/fortnight and the storage space available. It should be noted that the specifications for items will usually be judged by the brand names of the product together with size, weight and count.
---
Purchase Demand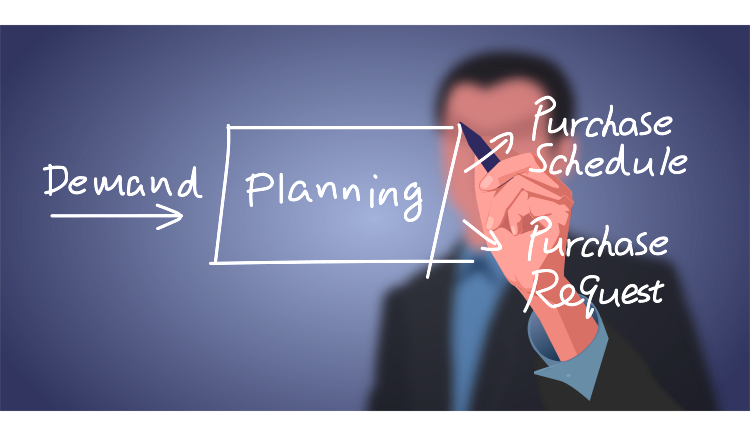 A variety forms of purchase demands can be encountered and a single form of purchase demand management wouldn't be able to meet the needs of modern enterprises. 8Manage SRM can help users easily handle different forms of procurement requirements without losing control:
Common goods & services centralized procurement (Volume strives for the best price)
Common goods & services distributed procurement (Locality yields the best result)
Common goods & services co-operating procurement (Using standing-offer to deal with demand unpredictability)
Specialized goods & services procurement (User department has the best knowledge)
Project-based procurement (Need to meet project time-and-budget constraints)
Urgently needed products or fresh products purchases (Such as food , fresh ingredients)
8Manage SRM allows you to define the organizational structure and the authorities and responsibilities of each of its units. 8Manage Budget allows you to set and track the budget that each unit in the organizational structure can spend within a certain period of time to procure the goods and services that it needs.
8Manage SRM allows you to do cross-functional procurement planning to meet customer demand for products while minimizing excess inventory and avoiding supply chain disruptions.
8Manage SRM allows you to do both direct and indirect material planning.
8Manage SRM allows one department to manage the purchasing of goods and services for the entire enterprise. Centralized control is beneficial in finding the best deals with vendors for the corresponding location of the purchasing organization.
8Manage SRM allows you to manage and merge purchase demands and select the best deals via Quick Quote, e-Tender or e-Auction.
---
Purchase Request
8Manage SRM Purchase Request can be used for centralized procurement and departmental procurement. It can be used by any department to submit a purchase request to the purchasing department.
Centralized Procurement
The upper level or the central procurement department will summarize the procurement requirements of all different departments for the same material and aggregate the levels to form a larger total procurement demand, so as to obtain better prices or cost savings.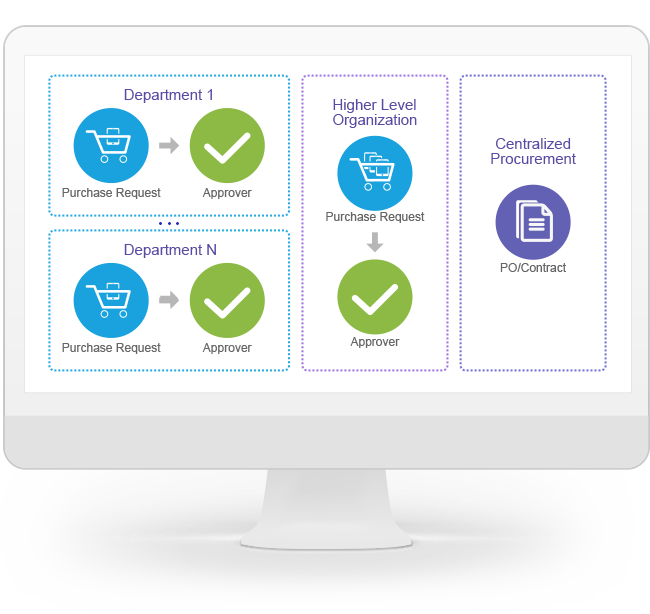 Departmental Procurement
If you need to purchase professional equipment or services, it needs to be managed by a demand department with professional knowledge. 8Manage Purchase Request can help you better manage these procurement needs in the following ways: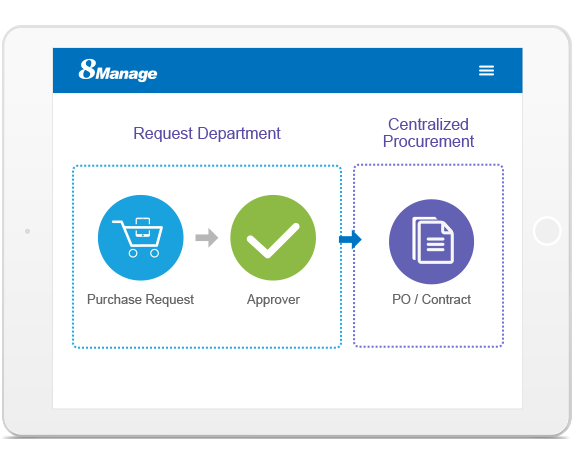 Quick Quote and e-Auction
8Manage SRM Purchase Request can collect quotations from different suppliers in real time, and then quickly compare their prices, delivery dates and other matters.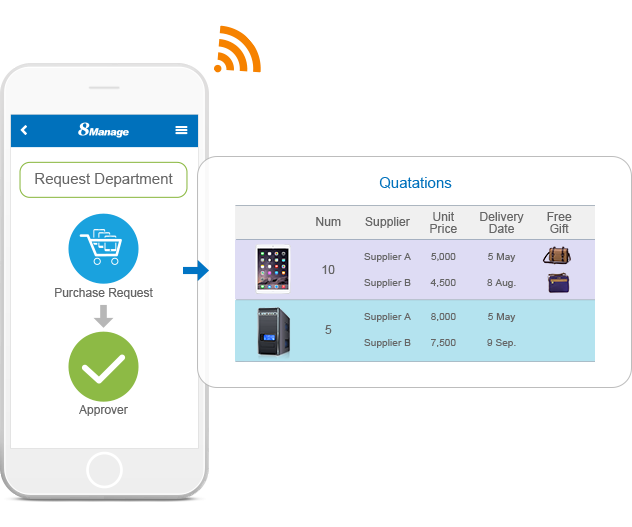 8Manage SRM Purchase Request supports real-time reverse auction. Users can set up one or more rounds of reverse auctions as needed, and the system will automatically notify candidate suppliers of each auction and control the start and end time of each auction. In each round of reverse auctions, each supplier can view the dynamic ranking of itself and other bidders in real time.
Allow Priority Use of Inventory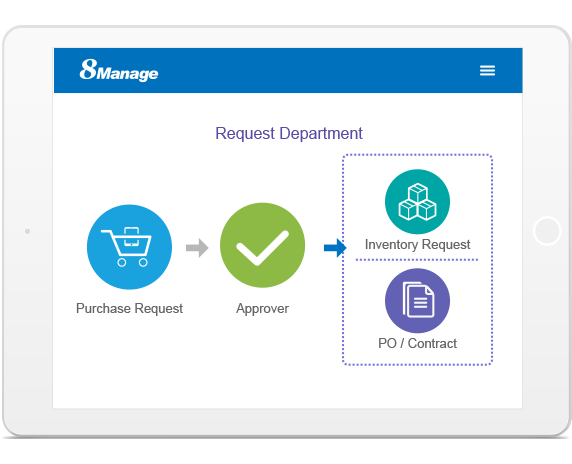 If the materials to be purchased are in stock, 8Manage SRM Purchase Request supports users to apply for existing stock materials. The user can view the inventory information of the material and submit an inventory request for the required material. If the existing inventory quantity cannot meet the required quantity, the user can directly click the "Generate Purchase Order" command, and the system will automatically generate a purchase order for the missing material quantity, which is very simple and fast.
---
Purchase Order
When you have just gone through a sourcing process to find a vendor for a specific type of product or service. You identified the winning vendor and are ready to solidify the deal… but what's the best way to formally document the agreement between you and the vendor?
While many companies go straight to a contract or, in the case of smaller purchases, simply ask for an invoice, there's another option to consider – a purchase order.
Purchase orders are legally binding agreements between buyers and sellers, and are a great option when you need more than an invoice but a lengthy, multi-page contract isn't necessary.
8Manage provides you the following purchase order functionality.
Type & Rule Settings – 8Manage allows you to categorize your purchase according to your company's purchasing categorization and set up the corresponding rules to ensure your company's policies are properly enforced.
Manual or Automatic Creation – 8Manage allows you to create your purchase order manually or automatically generate it from your purchase request.
Payment Terms – 8Manage allows you to set up the payment terms in your purchase order so that subsequent invoices and payments can be automatically tracked.
Review & Approval – Based on your organization structure and purchase type, 8Manage will automatically bind the preset review-and-approval flow to your purchase order.
e-Signing & e-Chopping – 8Manage allows you to e-Sign and/or e-Chop your purchase order.
e-Send to Supplier – 8Manage allows you to send the purchase order electronically to your supplier.
e-Confirmation from Supplier – 8Manage notifies your supplier of the new purchase order and allows it to confirm the order and then notifies you.
Delivery Planning and Confirmation – 8Manage allows you and your supplier to set up a delivery plan, make changes and confirm the (final) plan.
Acceptance and Return – 8Manage allows you to examine the products and services and accept and/or return them.
Invoice Matching – 8Manage assists you to match invoices received from the supplier to the payment terms and acceptance status of the purchase order.
Invoice Approval & Payment Request – 8Manage allows you to submit invoices and payment requests for approval.
Rate Supplier Performance – 8Manage allows you to rate the supplier's performance according to its ability to fulfill the order.
---
Procurement Contract
8Manage can help you manage complex contractual terms and delivery acceptance, ensuring that the delivery of your purchased products and services is implemented in accordance with the requirements of the contractual terms.
8Manage procurement contract is flexible and easy to use, and can be applied to the procurement of different types of products and services. For example, it can be used to manage:
Standardized products-and-services purchases (similar to using 8Manage Purchase Order)
Bulk purchases with complex terms and deliveries
Complex products-and-services purchases with service level agreement (SLA) and penalty
Master Contract and Sub-contract
8Manage supports the following master-contract and subcontract management:
Master-contract management:
Contract validity
Calculate the price of each product or service based on the cumulative total of purchases
Quality or service level agreement (SLA) and rewards and punishments
Delivery method and scope
Sub-contract management:
The exact quantity that needs to be purchased for each product or service
Delivery arrangements and methods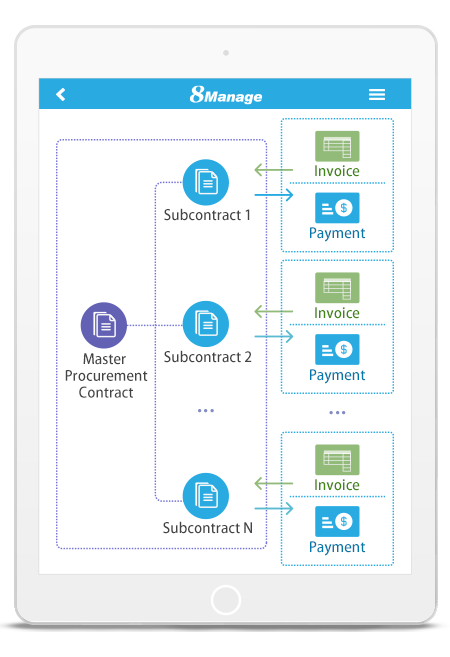 8Manage supports each sub-contract to be settled separately and also supports all sub-contracts to be aggregated into the master contract for settlement.
Procurement Project and Milestone Management
8Manage supports the management of the delivery and acceptance of purchased products or services through project deliverables and milestones. 8Manage can support the following types of procurement contract management:
Infrastructure construction or reengineering
Software development or system implementation
ITO/BPO
Organizational transformation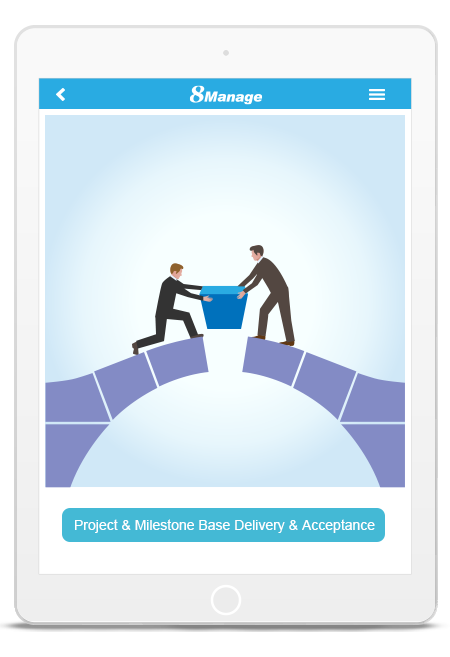 8Manage supports a set of delivery milestones linked to one or more projects. At the contract level, users can view and manage the resources, activities, dependencies, deliverables, and milestones of all projects in this contract.
After the purchase contract is approved, the contract budget will be automatically allocated to each item in the contract according to preset conditions, and the accrued expenses and actual expenses will be automatically aggregated from each item level to the contract level in real time. Besides, 8Manage supports users to manage the complex delivery and acceptance of purchase contracts. Users can control the specific arrangements, resources, activities, expenses and other matters of delivery and acceptance in real time.
Procurement and Sales Interconnection
8Manage supports the interconnection of procurement and sales. 8Manage procurement contracts can automatically collect sales information and create a real-time connection between the procurement contract and sales. Through these connections, you can effectively control:
Delivery and acceptance of products and services provided to you by suppliers
Delivery and acceptance of the products and services you provide to customers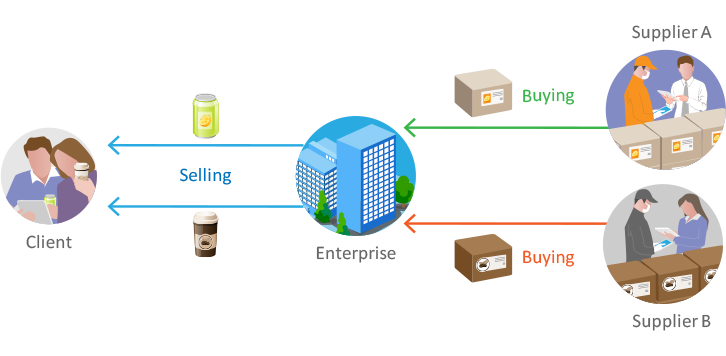 Any changes or impacts in the sales business (for example: adjustments in purchasing requirements, increase/decrease in profit and loss) will be automatically reflected in the 8Manage purchasing contract in real time. No matter how complex the purchasing contract is, you can understand the overall situation and the ins and outs at a glance.
Service Level Agreement (SLA)
The quality of products and services is the core of procurement concerns. 8Manage provides service level agreement (SLA) and reward-and-penalty management. You can create SLA and reward-and-penalty mechanisms for purchasing products and services as appropriate for your situation. 8Manage will automatically measure the actual delivery results based on the SLA and calculate the reward-and-penalty accordingly.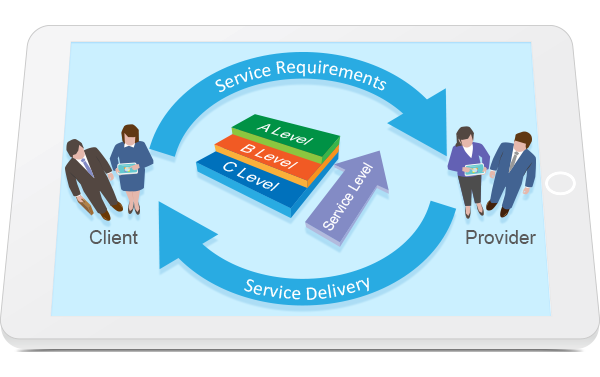 8Manage supports the setting of metrics for each deliverable according to the quality level agreement. During the actual delivery of the procurement contract, 8Manage will detect the deviation of the actual delivery in real time according to the quality level agreement, and issue a deviation reminder, automatically calculate the fine and issue a penalty notice.
Contract Budget & Settlement
8Manage supports the following features:
Contract budget and actual cost management
Supplier payment management
Goods & services acceptance

Supplier invoice management

Contract settlement management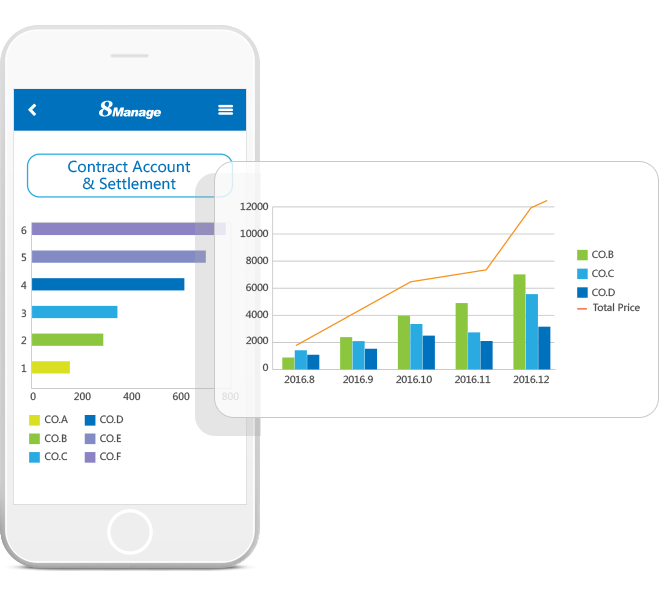 The budget and actual cost data of procurement contracts and projects are interconnected in real time. 8Manage provides an overview of procurement costs. Through this overview, you can see the real-time updated budget and actual cost information of procurement contracts and projects at the same time.
8Manage purchase contracts provide invoice management. Each invoice issued by the supplier will be recorded and tracked instantly by the system for its approval results and payment status. 8Manage supports the following payment methods:
Settle multiple invoices together
Support installment payment (the amount or percentage of each installment can be set as needed)
Change, Version and Renewal Management
In 8Manage, an approved contract can be modified after the change request is approved. 8Manage will automatically track all modified versions of the procurement contract, and manage the needed re-approval of each version.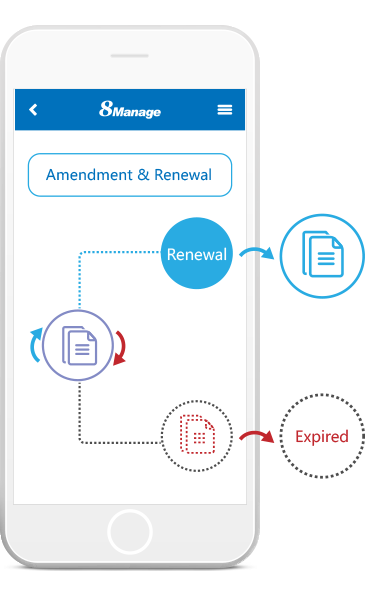 Procurement contract renewal is common. 8Manage supports procurement contract renewal management. Users can preset the renewal cycle and price adjustment as needed. Before the contract expires, the system will automatically send a renewal reminder to relevant parties.
At the same time, 8Manage provides an overview of all contract renewals. Through this overview, you can easily view all your contracts that need to be renewed. In addition, 8Manage supports the automatic generation of a new procurement contract based on the renewal setting and the old contract.